How was the PushClean wipe developed?
PushClean is more than a wet wipe.
An individual response to a specific need of people on the go.
The biodegradable viscose together with the application liquid,
embedded in the capsule are ready to use.
Do they cause any damage to the environment?
The PushClean encapsulated wet wipes are not abrasive. They are made of natural fiber fabrics and are recyclable. Its innovative system allows the degradation of the wipe in 12 weeks, collaborating with the environment continuously.
INNOVATIVE SYSTEM OF
THE PUSHCLEAN BRAND
The PushClean Product
The vessel (40 mm in diameter, height 14 mm) is a two chamber system. In the outer chamber, the application liquid (max. 5ml) is carried out. The center of the chamber contains a compressed cellulose wipe (23 × 22 cm). The two chambers are separated from each other. Through the pressure applied in the center, the container opens at the bottom and the liquid from the outer chamber reaches the center of the chamber with the wipe. The wipe then completely absorbs the fluid and rises vertically. After this contact, the wipe can be easily removed, unwound and put into use.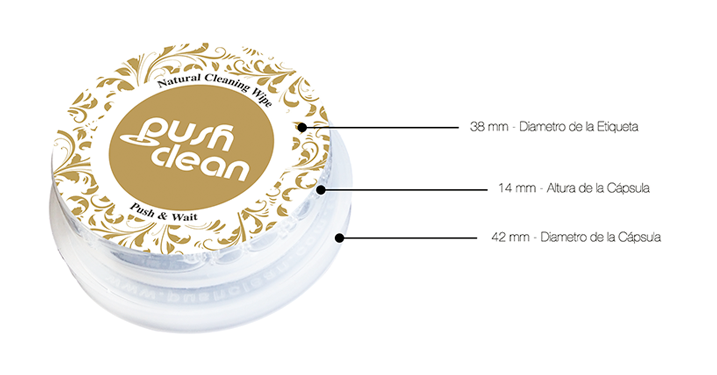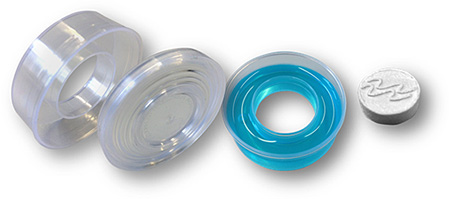 The application liquid
Offering a first class product is the goal of PushClean. For this reason, the evaluation and selection of a quality application liquid is the key. All application fluids are thoroughly tested with high quality and standard safety certification.
Recyclable container system
The main component used is polypropylene (PP).
Group PP 5 is a semi-crystalline thermoplastic that belongs to the group of polyolefins.
Therefore, applicable in the food sector, as well as the pharmaceutical sector. Polypropylenes are recyclable and have the number "5" in the "SPI resin identification code system."
There is a great demand for polypropylene.
Yes, we recycle.
Together with our partners, we ensure that the recirculation circuit remains closed.
Compressed and biodegradable viscose wipe
The raw materials chosen influence the quality of the final product. With this we ensure the quality of the PushClean capsule wipes. We combine natural purity with high functionality.
This function creates numerous products for you, creating a broad field of application of medical hygiene to technological aspects.
The first PushClean encapsulated wipe test began in 2010.
A year later 2011 production reached 210,000 pieces per month.
These products were distributed to selected customers and used for various applications.
Today, years later and an investment of millions of euros, we reach a production capacity of 10 million units per month.
We continue to expand our production line to meet global demand.